State of the Market:
We're sifting through the data for 2022 and looking ahead at 2023 and wanted to bring you the stats, takeaways and predictions of the multifamily market in the Puget Sound Region.
Our Team: had a great 2022 with lots of highlights:
Ranked #1 in closed multifamily transactions in the tri-county area

Onboarded a Rockstar Operations Manager and welcomed 2 new associate brokers

Relocated the Seattle office to West Seattle and opened an expansion office in Woodinville

We've mapped out some great goals and strategies for 2023, so despite market conditions we are ready to help you with your next investment!
The General Market:
Real Estate in 2022 nationwide can be described as a tale of two markets with everything hinging on interest rates. January through June was very much a Bull market with buyers flocking to the market to take advantage of the last chance at low rates. Bidding wars, escalating prices and waived contingencies characterized the frenzied seller's market.
In Jan 2022 the 10 year treasury was at 1.63% and interest rates for most buyers hovered in the mid to high 3% range.

June's rate increase hearkened a much different market which has drastically changed the landscape and is indicative of a more Bearish market.

The 10 year treasury finished the year at 3.8% (after peaking at 4.25%) landing interest rates in the 6 and 7% range for multifamily purchases.
The Tri-County/Puget Sound Region:
The tale of two markets was apparent in the stats from King, Pierce and Snohomish Counties. (For reference, inventory is measured by months with 3-5 months deemed a "balanced market" and anything lower is a "seller's market," anything above that metric would be a "buyer's market").
Jan 2022 had just 1.1 months of inventory available

This ticked up sharply in June following interest rates and peaked in October with 4.9 months

Dec 2022 ended with 4.1 months of inventory, not quite enough to be a true buyer's market, but a vast difference from the extreme seller's market that characterized the first half of the year.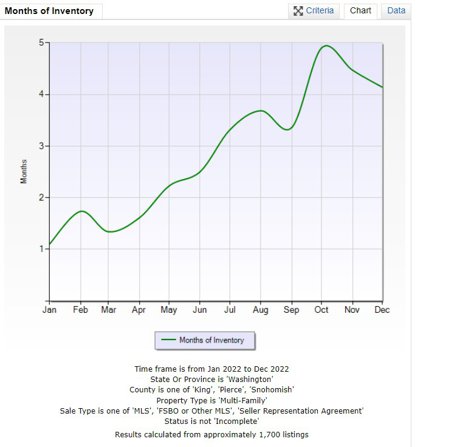 Similarly, the ratio of list price to sold price is a good indicator of market trends.
Jan 2022 saw multifamily listings selling for 112% of the list price

This dropped below 100% in June

Dec closed out the year with listings selling for 95% of the list price.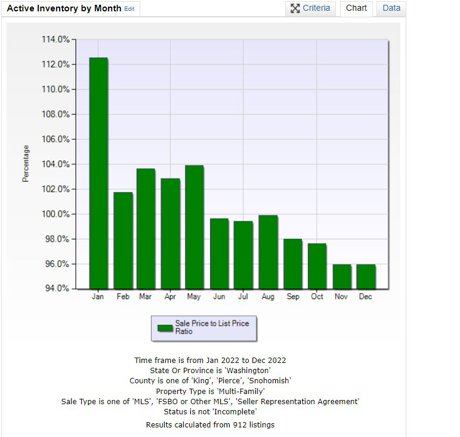 Creative solutions will become more prominent in 2023 such as seller financing, assumable mortgage and wraps. At SRG we've been boning up on these tactics in order to help our clients find innovative ways to make deals workable.

Office and retail do not have rosy outlooks according to industry experts, but the Industrial and Multifamily sectors are projected to weather this uncertainty much better. Considering the housing shortage and affordability crisis in the Puget Sound Region, fewer builder starts, and the fact that rent rates have held steady we would project the local multifamily market to hold its value well overall in the coming years despite the current downturn.

Considering inflation, possible recession, turmoil in crypto and the stock market we still believe MF real estate to be a good bet for all the usual reasons. With prices dropping, many sellers willing to sell for less and/or offer concessions, and some creative financing back in the game, we foresee 2023 as a promising year to find solid deals without the competition of yesteryear.